Dog Grooming for the O.T.T.
Dog Fur,Dog Grooming,Dog Hair,Dog Style
Extreme Dog Grooming that'll leave you speechless!
While many people spend time making sure their dogs have a visit to the groomer for a wash, cut and dry regularly, some dog grooming experts are taking dog grooming to new heights.
See the designs that have groomers all over the world using their clipper skills to shape fur into works of art.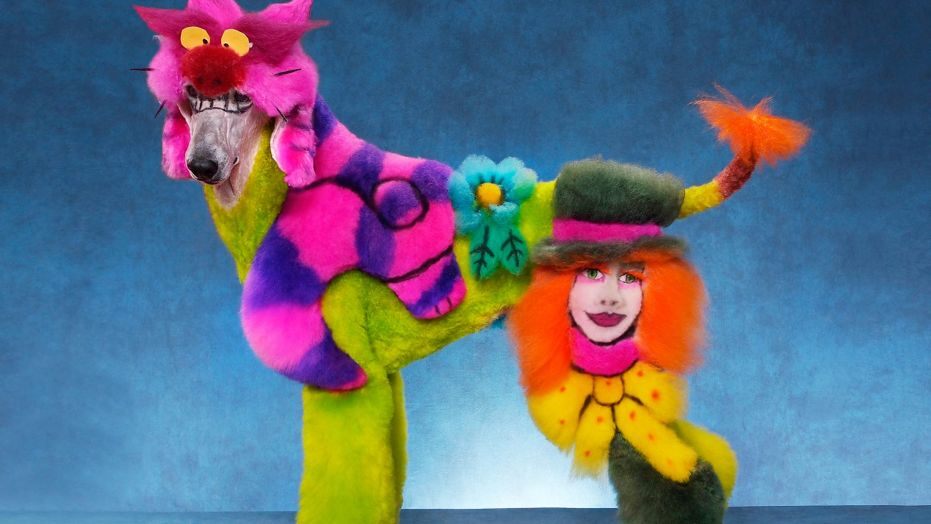 Alice in Wonderland
This dog grooming artwork complete with Cheshire Cat and Mad Hatter is absolutely out of this world. Where exactly is Alice though? Down a rabbit hole somewhere no doubt!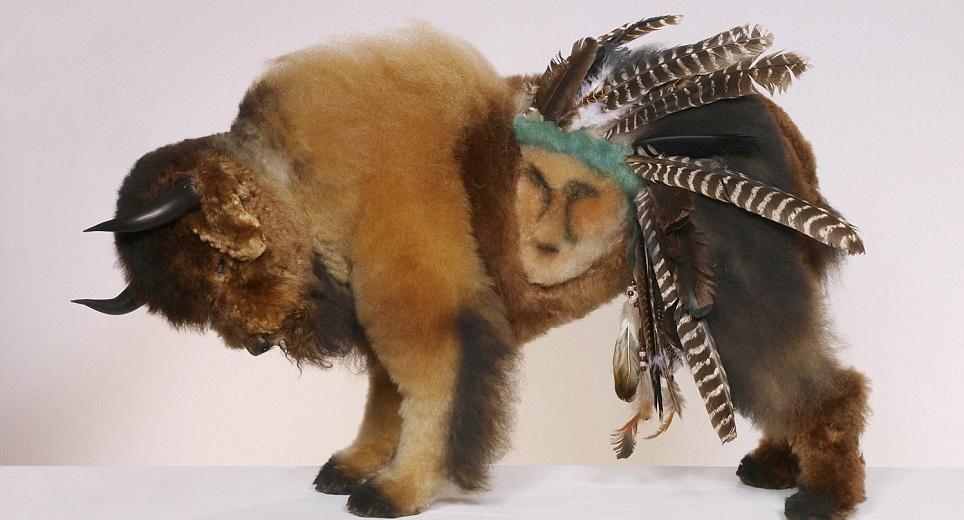 Bison
"Oh, give me a home where the buffalo roam"
Representing two of North Americas longest living residents, this Dog Grooming piece of art stopped me in my tracks. The clever skill in shaping the fur in such a way as to mimic the profile of America's largest land mammal is actual genius. Couple that with the inclusion of an image representing Native Americans, it's an artwork that reminds us of America's history. This is dog grooming at levels never before seen… Here I am struggling to cut my fringe straight!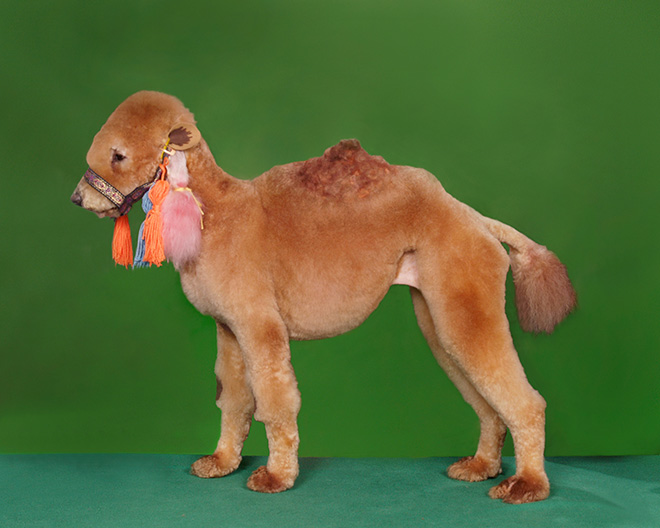 Camel
I just want to take this mini-camel home and snuggle her up! It amazes me that some groomers are so clever at creating these incredible dog grooming works of art without using too much in the way of paint and dyes. This is a very understated design in it's use of colours and shapes, but that's what makes it so amazing. It relies only on the clever shaping of the dog's fur to create a silhouette that you could recognise anywhere.
Daffy Daisy Pluto
Things go next level when extreme dog grooming moves into character representation. This one extreme dog grooming example is just a little creepy in my opinion. They nailed Daisy and Daffy, but Pluto is just a little scary looking if you ask me!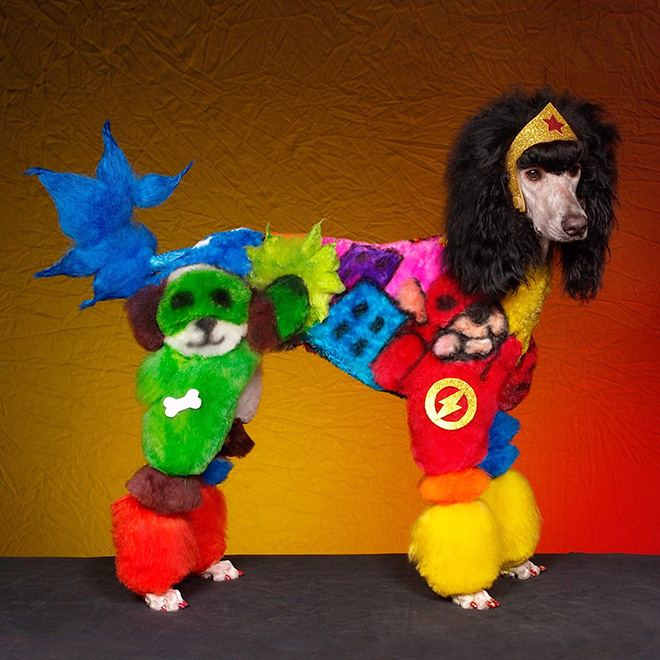 Green Lantern Flash
It's impossible to deny that this extreme dog grooming creation is a little O.T.T. but it's one of my favourites for two reasons… The Green Lantern looks like a little teddy bear and Wonder Woman's hair looks better than mine ever has!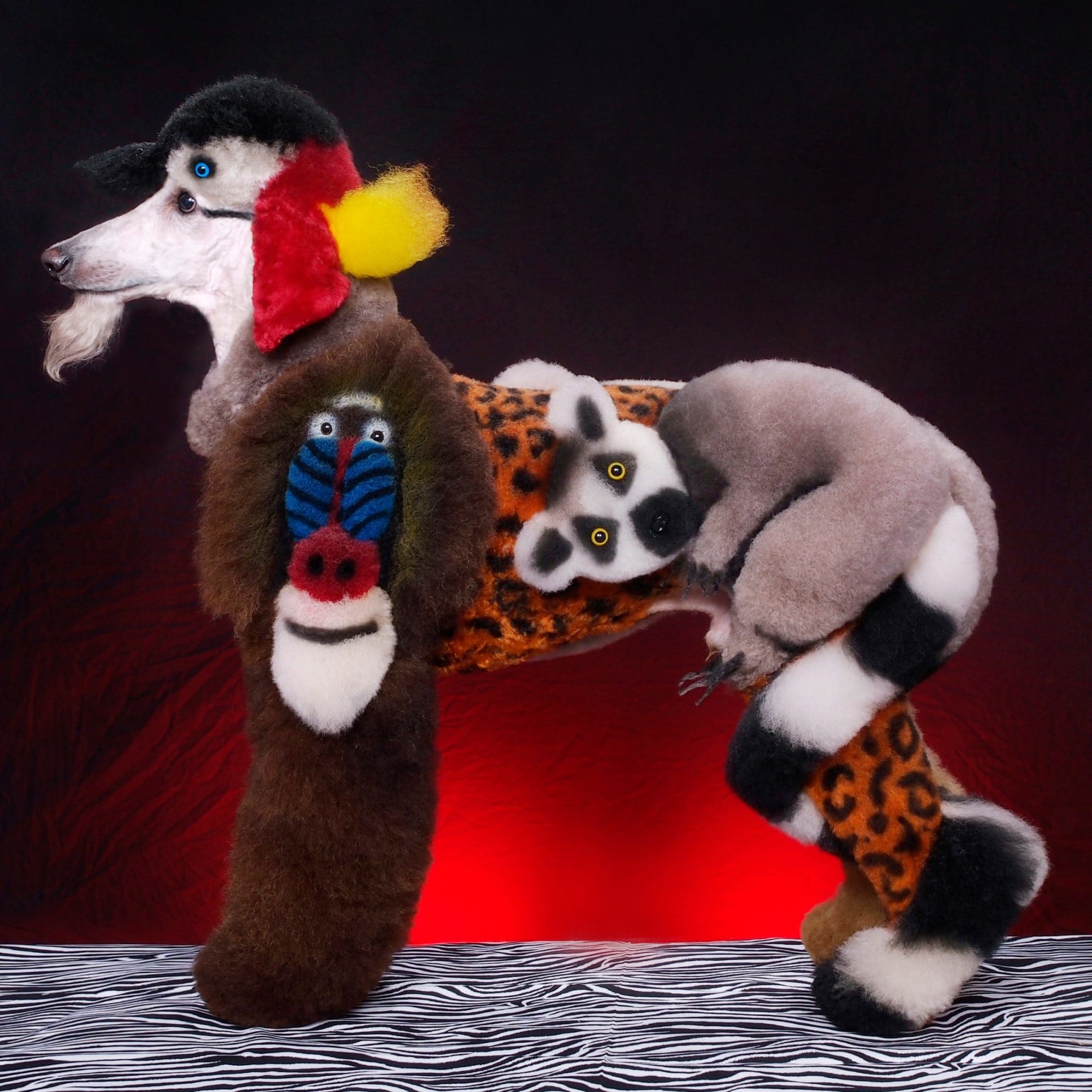 Safari Time
What really blows my mind is the vast array of concepts and designs that these extreme dog grooming experts see to conjure up. This jungle inspired piece is no exception to that rule! Seriously… Check out Rafiki!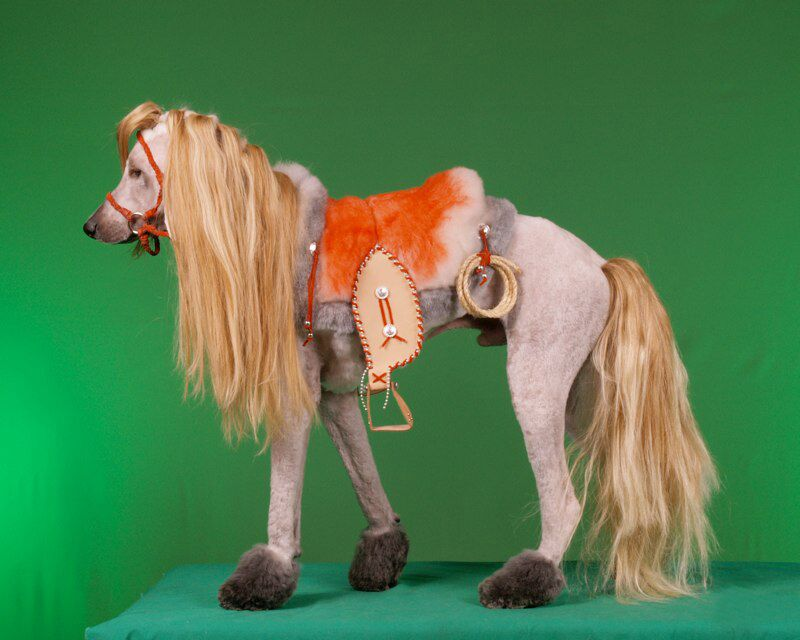 Pony
If this isn't up there with the best things to ever hit the internet, then I don't know what is! I'm a bit of a pony lover, so maybe that's why this extreme dog grooming example had me at hello… I can't be sure. It might also be the incredible skill that went into shaping the gorgeous saddle, or is it the pony's gorgeous locks? You be the judge!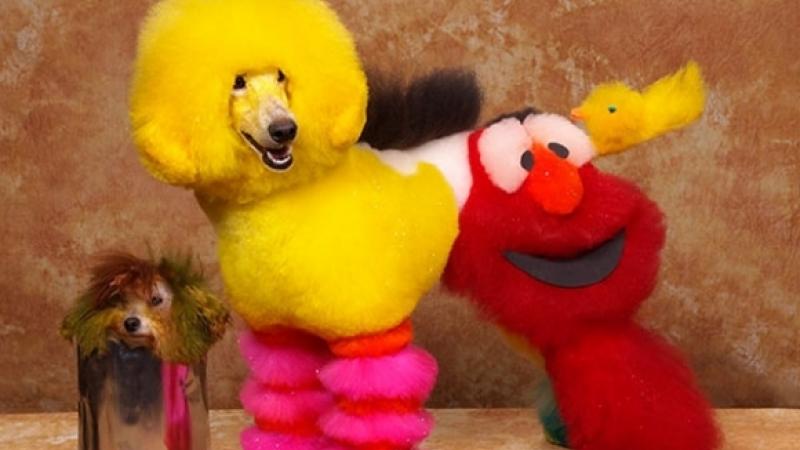 Sesame Street
Big Bird and Elmo… what an iconic duo! This design absolutely cracked me up! Check out Oscar The Grouch! Poor little guy! But nonetheless, an extreme dog grooming Big Bird is exactly what the internet needed today I've no doubt, but I feel like Elmo's in the wrong spot for a tickle!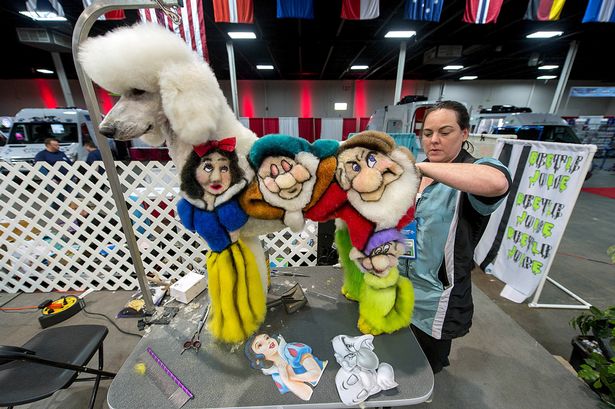 Snow White
I honestly can't even believe the talent of some of these extreme dog groomers… I have trouble tying my own hair in a ponytail let alone being able to complete an illustration of Snow White with her friends. You've got to wonder what other areas this kind of skill is useful for? I mean… are these artists clever illustrators, graffiti artists, cake decorators… Wouldn't you love to know what other skills they have up their sleeves?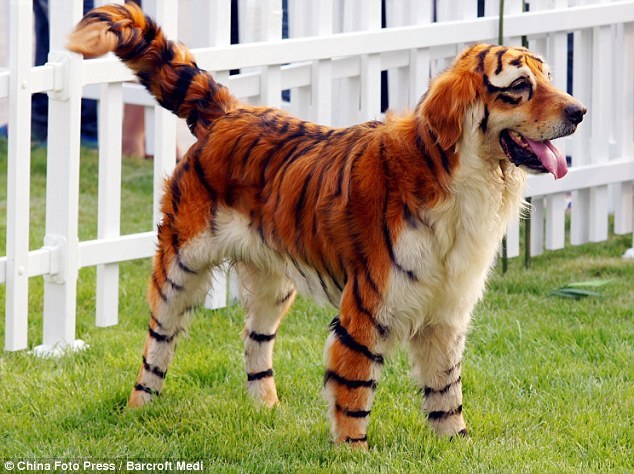 Tiger
Lions and tigers and bears… Oh my! I've seen so many of these incredible creations that rely less on clippers and more on clever dying or spraying. I can't even imagine the looks that this dog owner would have got as they went for their morning walk. I'm sure some people would think it's a little crazy to be going so O.T.T. on a dog's appearance, but it's art right? 
That's a wrap!
Thanks so much for checking out these crazy creations. If you've seen some extreme dog grooming that we should know about, you can share your images and stories with us if you like! We're keen to share our love of dogs with the world and we know you are too!